School Field Trips
Enhanced Cruises
MPA Cruises
Our Educators
Reserve a Trip
A fun, educational and wildly exciting trip! Providing Southern California students with an exceptional whale watching experience for over 20 years!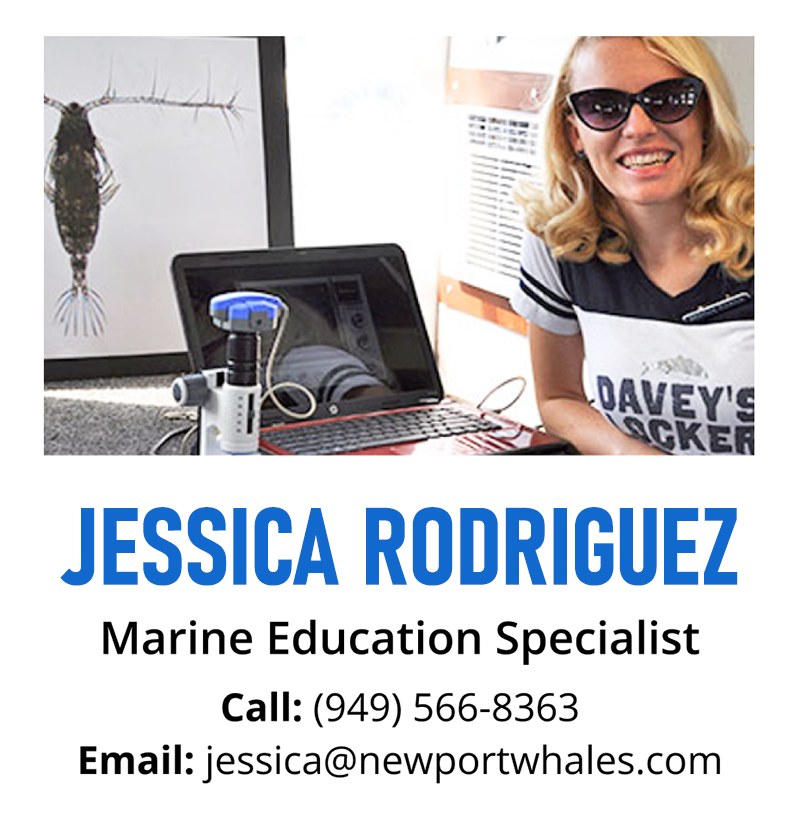 Davey's Locker's whale watching school field trips offer year round opportunities to view whales, dolphin, sea lions, and many other marine animals from the safety of a large whale watching ship. Davey's Locker's educational team provides presentations touching on state educational standards, onboard narration, and post cruise activities to enrich the whale watching field trip experience for students from all different grade levels.
Davey's Locker Whale Watching has served public schools, private schools and homeschool groups, & has provided students with an exceptional whale watching experience for over 20 years. Each year over 400 groups from the Los Angeles and the Southern California region come out on one of our whale watching trips. Whale watching cruises not only focus on viewing large whales & dolphins, but we cover the complete marine ecosystem, offering a unique learning environment that many students are exposed to for the very first time on one of our cruises.
Davey's Locker Whale Watching strives to share our love of marine life with the public with the hope of spreading greater awareness of cetaceans and environmental stewardship of the ocean. Newport Landing provides a year-round comprehensive learning experience with an enjoyable, educational and engaging curriculum designed around the California State Board of Education's standards for learning. Click below to find out how our fieldtrip experience can meet the science standards for your grade level.
STEM CRUISES
FOR TEACHERS
FOR PARENTS
Learn more about our On-the-Water STEM Cruises:
Click below to view a list of downloadable links of Curriculum Packets and Activity Sheets per grade level.


View Downloads

Fun trips designed for the family!

Home School Whale Watching
Girl Scout & Boy Scout Whale Watching Trips
Our Whale Watching experience includes: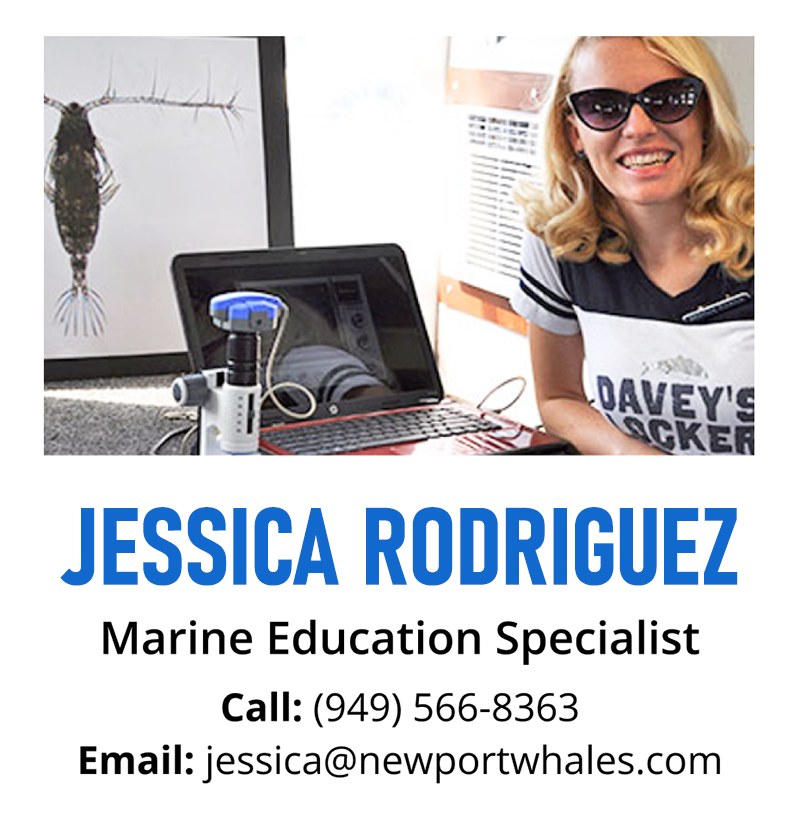 A fieldtrip aboard one of our safe and insured vessels to potentially view whales, dolphins, sea lions and marine birds.
Knowledgeable crew members on board the vessel to give information and answer questions about the sightings, boat and other related inquiries.
Newport Landing is also offering the option for an onboard American Cetacean Society Naturalist to accompany your class out on the water to answer any questions, and entertain the students throughout the trip. *dependent on naturalist availability
In class presentation with marine mammal artifacts by an American Cetacean Society Naturalist before your trip. *dependent on distance and naturalist availability
Grade level appropriate curriculum packets that can be printed and used to brief students on what they may be seeing on their trip and how it connects with what they are studying (see links below).
Post trip activity sheets that connect with state standards that may be printed and given to students as a follow up learning activity (see links below).
TRIP TIMES
MAY – OCTOBER SIGHTINGS
NOVEMBER – APRIL SIGHTINGS
Our whale watching trips are between 2 – 2.5 hours in length daily.
MAY – OCTOBER:
10:00am, 1:00pm, 3:30pm, 6:00pm
NOVEBMER – APRIL:
10:00am, 12:30pm
During this season, we get to see:
Blue whales
Fin whales
Gray whales
Minke whales
Dolphins
During this season, we get to see:
Humpback whales
Minke whales
Gray whales
Dolphins
Orcas
Enhanced Trips




MPA Cruises



Learn about our Enhanced Whale Watching Trips
Dive into the underwater world of marine mammals with this new STEM on-the-water field trip, offered by Newport Whales and Crystal Cove Alliance! >> Learn More

Marine Protected Area Citizen Science Cruises
During the three hour cruise, 7th – 12th grade students are immersed in current research inside Crystal Cove's Underwater Park! >> Learn More

Jessica


Marine Science Educator

---

Jessica is our education coordinator and whale watching naturalist for Newport Whales. She has a Bachelor's degree in Biological Sciences and extensive hands-on experience in marine biology. Not only does she enjoy teaching others about the wonders of the ocean, but she spends much of her free time as a volunteer for several organizations working with marine mammals, penguins, and sharks just to name a few. She's an avid S.C.U.B.A. diver, and our on-the-water educational programs have created a great platform for her to engage with youth, teach them about marine life and get them excited about our oceans. Who knew learning could be so fun!
Email Jessica | Naturalist Blog

Wesley


Marine Science Educator

---

Wesley is one of our whale watching naturalists and marine science educators at Newport Whales. Growing up in Boston, and receiving her Bachelor's degree in Marine Biology from the University of Maine, she has a wealth of experience in marine research and has a passion for the outdoors. She is very happy to be on the water educating the public about the amazing whales we see here in Newport Beach!
Email Wesley | Naturalist Blog

Tammy


Marine Science Educator

---

Tammy is originally from Long Beach, California and graduated from Westmont College in Santa Barbara. Tammy is our newest whale watching naturalists and marine science educator at Newport Whales. Tammy has a wealth of experience in the Pacific Ocean including kayaking near sperm whales, tracking transient orca in Alaska, and apprenticing beside female shellfish divers on Jeju Island, South Korea, . We are excited to have her educating the public about the whales we see here in Newport Beach!
Email: tammy@newportwhales.com
Email Tammy
Request an Onboard Naturalist
Newport Landing works closely with the non-profit organization, The American Cetacean Society of Orange County (ACS-OC). Based upon request and availability, your class has the option for an onboard Marine Mammal Naturalist to accompany your group on the water, and answer any questions they may have. Request an in-class presentation by one of our knowledgeable ACS-OC volunteers (subject to availability). Captains and Crew members also provide full narration and are available for questions during your trip.
Fill in the form below and an educator will get back to you as soon as possible.